The Cleburne Chamber of Commerce recently presented Marshall Young Insurance with the Community Improvement Award. The award is given for making improvements to existing real estate and buildings that enhance and promote beautification to existing buildings in the community.
Cathy Marchel, President of the Cleburne Chamber of Commerce, presented the award to Jonathan Lee, Chief Experience Officer, Marshall Young Insurance on behalf of the community. Cathy said, "One day I was driving by the old Ridgeway Medical which had been sitting vacant for a year and noticed Jon in the driveway. I pulled into the parking lot and said I know what you are thinking and you need to do it!  Little did I know the plans he had for the building and the transformation that would take place before it was finished."  Jonathan said, "I want to thank Mark Sims of Mark Sims Construction for the great job they did remodeling the building.  It was a great experience and I have already told Mark I need to find another building to remodel.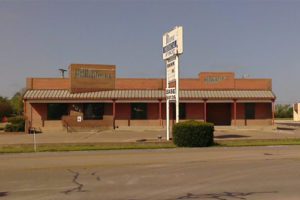 Louis Speyer, of Ideals Architectural Design, did a fantastic job listening to my vision and putting it on paper.  The entire project utilized local talent and we have great craftsmen in Cleburne.  Marshall Young Insurance utilized the latest energy-saving technology and has reduced its utility bill by 79% while still increasing the size of their office.  Bill Young, President of Marshall Young Insurance, stated, "We had been in the old location since 1969 and it was very hard to move but the right move for the agency going forward.