Marshall Young Insurance is here to protect what matters most to you.
We're your trusted, friendly and caring insurance agency.
The world may have changed a great deal since 1965, but some things remain true to this day. Treating people with respect and kindness, building relationships, working together in partnership and educating clients-this is what do to show our clients how much we care.
Established in 1965, we are an independent, family-owned insurance agency that has found our purpose in caring for the businesses and families of our clients. Offering insurance isn't just what we're about, we want to be lifelong partners that protect our client's lifelong dreams and goals.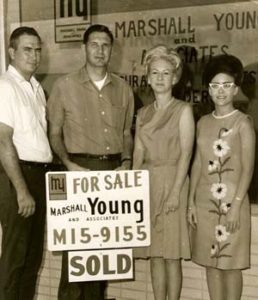 Marshall Young Insurance was founded in 1965 by Marshall Young as an insurance, construction and real estate firm. The growth of the firm took off and soon Marshall enlisted the aid of his brother, Bill, to handle the insurance side of the business. As the business grew Bill was able to expand the number of companies Marshall Young Insurance represented.
In the 1970s The Hallman Agency in Grandview became part of the Marshall Young Insurance family to be followed in the 1980s by the Reid-Smyth Agency. In the 1990s The Gage Forrest Agency was purchased when Gage retired. In 2010, brothers Jonathan & Matt Lee joined the agency and Jonathan took over the day to day operations. After 30 years in the insurance business, Jane Massey decided to retire and sold the Jane Massey Insurance Agency to Marshall Young Insurance in 2012.
Almost fifty years later, Marshall Young Insurance has grown into one of the top insurance agencies in Johnson County. Bill Young still comes into the office making sure that friendly customer service still goes hand in hand with good prices. Many of our customers are now second and third generation customers and have been with us their entire lives. This is an honor that comes with a certain high degree of responsibility and trust. It is one that we don't take lightly.
Over the past 50-plus years, from the humble roots of those early days to now, Marshall Young Insurance has endured for one simple reason-we care.
Our Commitment To Our Clients
Our clients, many of whom are second and third generation clients, believe in us. They trust us to do the right thing for them, not just what's convenient or easy. While a client's main concern may be price, we're more concerned about their coverage. We educate our clients on the importance of the right insurance policy and advise them on the best course of action based on their needs and budget.
Our work doesn't end once a policy has been purchased. We make sure our solutions and advice are understood by the client and implemented correctly. By taking care of our clients and keeping them informed and protected, they learn they can trust us. From there, we grow and nurture that relationship of trust. This is what allows us to serve and care for our clients for years, sometimes decades.
We have grown into a community leader and trusted insurance partner for our clients across multiple states. With our office in Cleburne, TX, we offer a full line of insurance products throughout Texas in Dallas/Fort Worth, Austin, Houston, San Antonio and the surrounding areas. Our coverages range from high net worth, home, auto, life, health, restaurant, contractor and manufacturing insurance.
Stop by or contact us today to let one of our agents review your insurance needs. We're here to listen to your needs while bringing you the advice, education and solutions you deserve to help you protect what matters most.
The Marshall Young Insurance Difference
We are a family-owned and operated insurance agency established in 1965.
We believe our purpose is in caring for the businesses and families of our clients.
We desire to work with clients that are looking to build a relationship.
We want to be lifelong partners that protect our client's lifelong dreams and goals.
A Proud Trusted Choice Agent
We know you're a person and not a policy. Being a Trusted Choice member means we honor this and follow the Pledge of Performance, which includes:
Years of Insurance Expertise
Choice – Insurance options from multiple insurers for all needs and lifestyles
Your neighborhood agent with the right coverage at the right price
At Marshall Young Insurance, our mission is to build trust with our clients. By offering real help and practical advice, we're able to educate and show that we're here to offer them real solutions for their insurance needs.
Insurance Quote Request
As an independent agency, we offer multiple options at competitive prices.